I was so excited about ALL the entries, and so surprised that so many of you wanted to participate! Guess that means we need to have these contests more often! So here are the TWO, that's right I couldn't narrow it down from there, photos that won! They will each win a $150 gift certificate! I need you guys to email me your address and contact information! We will definately be doing these contests on a monthly basis...so fun! Happy New Year!
Katie Thomas

"My most memorable moment was Parker getting to know his cousin Maddox. Here's Parker giving Maddox a smooch!"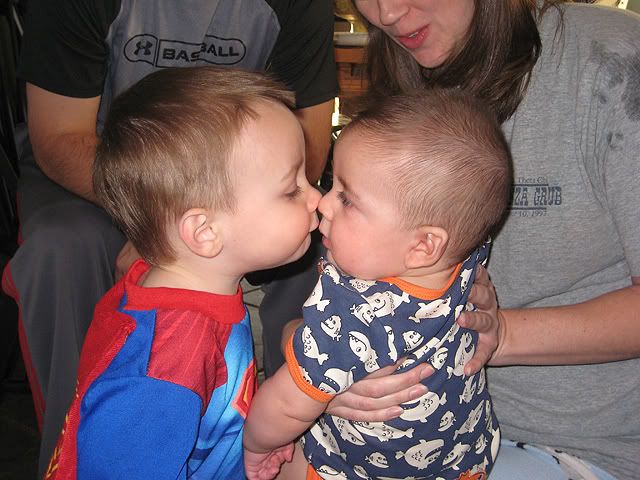 Lindsey Jones
"The boy in the pic is my middle son, Justin, who is 9. The guy he's playing with is his older brother, Joshua, who is 21. Joshua is in the Army and has been stationed in Virginia for the last three years. It has been almost two years since he has been home. He and Justin are very close and it has been hard on Justin not having his older brother here. We suprised Justin with Josh's homecoming for Christmas. One of Justin's Christmas wishes was for snow. When I look at this picture I am able to see in Justin's face just how happy he was to have not only a white Christmas but to have his older brother down for the holidays."